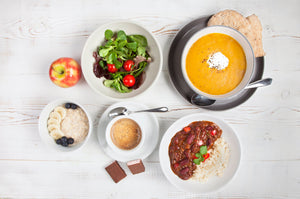 Take the first step to losing weight today
Expertly chef-prepared dishes from breakfast to dinner. No counting points or calories - we do the numbers for you. Pick and mix any combination of meals and snacks to suit you, straight from the Diet Chef kitchen.
Easy to store, all our meals are designed to be kept at room temperature. Just pop them in the cupboard with no need to worry about freezer space. Quick and easy to reheat in the microwave, you'll have a healthy meal ready to eat in minutes.